How sweet is this watercolor family portrait by Rifle Paper, Co of blogger Joy Cho's family?? I love meaningful art and think this is just the loveliest example of a fun spin on the traditional family portrait. I'll have to cruise Etsy or hire out a talented friend to create on of these someday for us when our family grows a bit more.
Here are a few other examples of meaningful art I hope to add to our collection over time.
LOVE! One day I'll commission one of these Rebekka Seale custom illustrations when we buy our first place but in the meantime, I think a hand-drawn illustration of a new home would be a wonderful housewarming gift. I can see it on a gallery wall.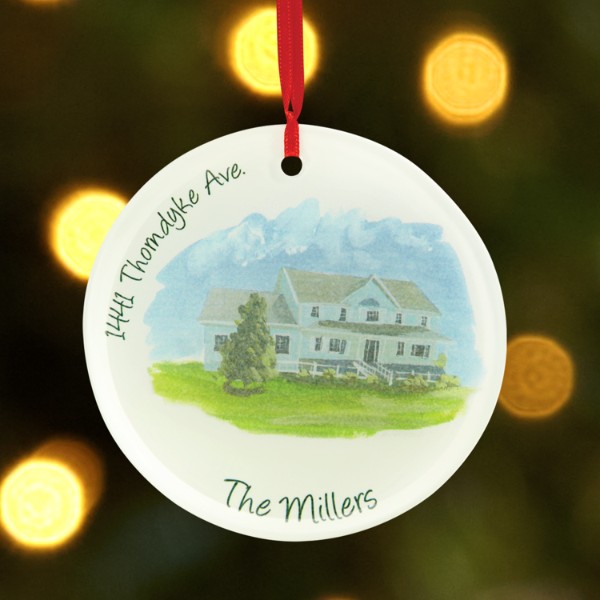 Years and years ago I started gifting friends and family with customized Christmas ornaments with their childhood home or new home that I'd found on personalcreations.com (obsessed with that site). Brian had one made for us of our current place and it's one of my absolute favorite ornaments — and you know we have a LOT of ornaments. Sadly, they don't seem to offer this particular ornament anymore but check out Michelle Basil. She paints stunning ones like  this one below:
Finally, I've wanted to get one of these wedding dress portraits done since our wedding but just haven't had the time.  I met a lovely local Boston vendor  recently at the Sommerville Wedding Craft Expo, but have yet to get in touch. The drawing above was done by the incredible Diane Bronstein. I'll add it to my to do list I suppose…! How gorgeous would this look on a gallery wall or layered on a console table with photos from your wedding day?