Note: This post was actually penned LAST winter (in 2018) but I only just sat down to finish it. Whoops. Better late than never, right?
For the past few years, I've become more and more interested in simplifying. Initially I thought this had to do with trying to control the chaos of kids and wanting to make my day to day easier. Fewer toys = less to trip over, I reasoned.  But as I reviewed the trajectory of my life, my relationships, my career, and how I spend money, I've realized it's much more of a tune-in to wanting to better focus how I spend my time.
To say that I had a rough past few months would be an understatement. I suspect touches of post-partum depression were to blame, paired with a long, cold, winter. Just when we thought we were out of the woods, BAM. Snow storm at the end of March. It's just not RIGHT I tell you.
This relegated me and the kids to the house for much of February and March. It was really brutal. When you stare at the same modest square footage of a house every day with two kids, filling the hours in a day can feel like a millennia; some days, I don't know how I even survived until Brian walked in the door at 6 o'clock.
To a degree, I spent a lot of the later winter and spring in survival mode. I'm in a much better place now and it absolutely has to do with my burning need to be outside as much as humanely possible.
Only recently did I realize just how poorly I was directing my precious daily minutes towards tasks and activities that were NOT in service to my life's goals, wishes, dreams and ultimately… my happiness.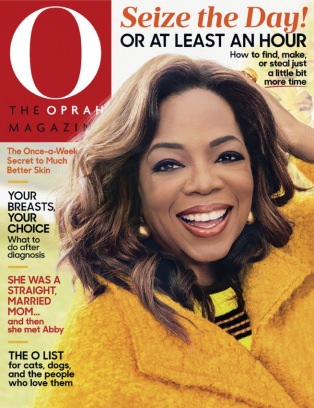 I owe a chance grab of a magazine while at the gym this past Monday for this life-changing revelation. As most incredible things start, it all began with Oprah. Specifically, O magazine. I'd done an intense strength-training session and usually cut my time short so I can pick my kids up in under an hour, but for some reason, I was pulled toward the recumbent bikes. (Cough: Laziness) I'd intended to sprint a quarter mile on a treadmill (since my cardio has been abysmal lately), then head home, but when I saw some fresh magazines on the rack, I made a beeline for them. I grabbed a People and for some reason, Oprah was just calling to me from the cover, so I grabbed her.
As I sat down to pedal, I felt a surge of disappointment as I noticed the issue was dated: October 2017. Still, I dove in. Something on the cover about a "How To Be Fulfilled" or Seizing the Day piqued my interest and if there's one thing I'm always in pursuit of, it's self-improvement.
I should mention that earlier that day, I'd been chatting with a friend about minivans, so when my thumb randomly picked out an article about a minivan-loving mom, I felt an odd sense of serendipity. And no, not a cute van like in the photo above. I was talking about a true "mom-mobile" with crumbs on the floor, shoe scuffs on the backs of all the seats, and garbage that falls out simultaneously as kids pour out the sliding automatic door. My next read turned out to be what inspired this post. It was titled Find Your Purpose in Life with This Simple To Do List, by Martha Beck, (article linked here) and the gist was basically that in order to better focus your limited time here on Earth, work through three exercises to help guide you to what makes you happiest. I won't detail the entire three-part exercise here (read the article) but I will share that the first question was essentially: What are your life's goals? The distinction though, was to answer through the lens of the following:
How have I made the world better for having lived in it? 
and
How am I better for having lived in the world? 
Pretty powerful, right? I spent the drive home pondering and found myself continuing to think about it for the rest of the week. I jotted down my answers in my bullet journal and found myself defining what my values truly are, for probably the first time in my life. HOW IS THAT POSSIBLE AT MY AGE? Yet, here we are.
Since then, nothing has been spared scrutiny. More than anything though, I've found that I'm so much more calm and at peace. I feel like an enormous weight has been lifted and the cobwebs cleared from my mind. I felt similarly after I started reading Marie Kondo's book, The Lifechanging Magic of Tidying Up years ago.
Paired with something I've heard Paula Pant say on the Afford Anything podcast, "You can afford anything, but not everything," I feel like a lightbulb has turned on in my brain. You also have TIME for anything, but not everything.
LIFE CHANGED I tell you. And what I think a lot of us need in order to focus on what really matters to us is less of all the other junk that distracts us from what truly matters to us. Less TV. Less clothing. Fewer obligations. And so on. These are just a few that I've uncovered for myself. Yours will likely be quite different, but I can't express how much happier I've felt since this new mantra of: Simplify has entered my life.