I've been prepping for Emilia's Baptism over the past month, but, as usual, have lingered over the fun details and neglected the "fussier" ones. So that means her gown and headband are ordered and I've thought about food and decor, but the physical invitation I'd hoped to send ended up being an e-mail and we have yet to clean our place. Ah well.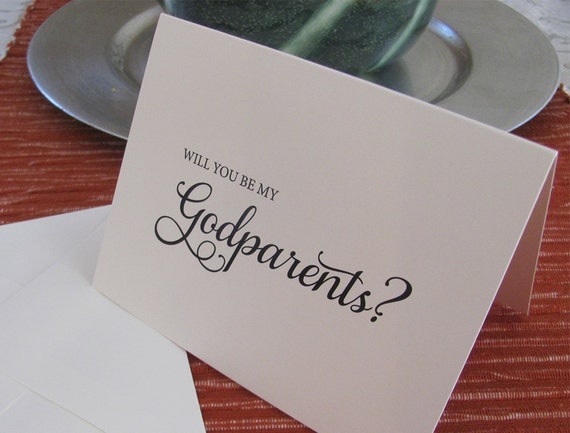 After we secured the baptism date, the first thing I did was order two sweet cards to give to Emilia's godparents, my sister, Skylar, and Brian's brother Scott. I can't take credit for discovering them though because I received one recently when I was asked to be a godparent and thought it was the sweetest keepsake. This is the Etsy shop where we purchased them.

Next on my list was the baptismal gown. I'm sentimental and love family traditions, so it was important to me to find an heirloom-quality gown that could be passed down for generations. I wish we had one in our family for Emilia to wear and even toyed with the idea of designing something myself but quickly realized I was being overly ambitious. I really love the traditional, long, gowns so I was thrilled when I found this gorgeous one at Nordstrom. I love that it's dupioni silk — the same as my wedding gown. I think Emilia will look beautiful in it and it's a classic style that will look great for years to come. My parents generously offered to purchase the gown for their granddaughter and any future grandchildren , which only enhances how special it is for this occasion.
Other than that, I also ordered a sweet little headband from Etsy to pair with the gown since Emilia isn't in love with hats yet. My only concern is that the headband is ivory and the gown is white. I actually love to mix creams and whites as long as it looks intentional, but I may try to dye the headband so it's a closer match if it doesn't look right. Additionally,  I'd like to find a pretty, personalized Bible for her or a book or prayers that I could recover in the beautiful lace I found last Memorial Day weekend. I've been drooling over the project above for ages, but could never find the right project for it.  You know, because I have so much time for projects lately.
I tend to get wrapped up in the meaning behind rites of passage like a wedding or Baptism, so I wanted to share some of the interesting things I learned in the Baptism class Brian and I had to take in order to have Emilia baptized at this particular parish:
– The white gown that babies typically wear is more of a tradition than a part of the Baptism sacrament since it's purpose is intended to represent the child's new life in Christ which happens after the water is poured over the child's head. Since most babies will arrive already wearing their gown, a simple white "bib" is placed over the child's head by a godparent following the blessing.
– Godparents don't have to be from the Catholic Church exclusively as long as both have been baptized and at least one of the two has received Confirmation. If they aren't from the Catholic Church, they are considered a "Christian witness," instead of a godparent.
– The terms "Baptism" and "Christening" are often used interchangeably, but Baptism is the actual name of the sacrament. "Christening" refers to the naming of the child.
We have a fairly large group of family and very close friends coming to celebrate so we're planning to host a very casual get together back at our house after the church ceremony. We'll likely have to utilize indoor and outdoor spaces, so that will be a fun party planning challenge we've never encountered. Stay tuned!